Can someone please tell me where the time has gone? Because I swear, it was March the other day and now we're basically halfway through the year? How's that even possible? Just give me a time machine, already, or stop the world from spinning, I need to catch my breath.
Anyway, time is seriously flying by! Could you believe I'm turning 26 this month? TWENTY. FREAKING. SIX!!!! It's so old! #ugh Give me my walking stick, already!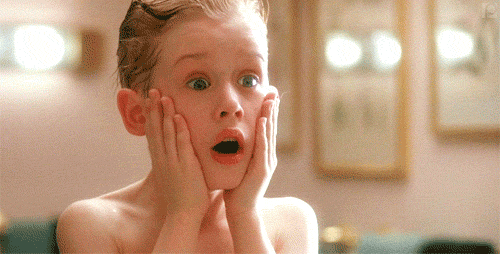 To ignore this whole thing, here are some favourites that helped me think about something else, like, moving to New York, lying about my age to get a job I'm not qualified for and find my one true love at a pub's counter. LOOK AT ME LIVING THE WILDLIFE!
youtube
- I have been absolutely loving Alix' - aka I Covet Thee - videos lately, like, really loving them. I found myself listening to her talking while I did my errands and, I'm not gonna lie here, went to town with re-organizing my closet - that jumper folding technique saved my butt. Seriously.
- One of my absolute fave babe to watch on YT is Helen Anderson. I mean, she's the friend you wish for, the wild, insane, very funny, chilled out person you could take on holiday with you or at the supermarket and have a blast with in the most random places/situations. I've been loving her vlogs recently and I found myself re-watching old ones just because I couldn't have enough.
blogs/articles
- As a lot of you may know, June has been Pride Month. I'm so happy for everyone to shout their love at the top of their lungs, whether it's on the streets, on a tv-show, in the comfort of their own beds or at the altar. And I'm so proud of us, all of us, for being so understanding and supportive. YEY FOR HUMANITY, am I right? I suggest you read this article Nico Tortorella - Josh on tv-show Younger - and wife Bethany Meyers co-wrote, about them being a queer, polyamorous couple, madly in love.
-If there is one thing I love about the blogging community, is the support we give and provide one another. One thing I do hate though is the constant battle for affirmation. Laura - from What's Hot - wrote an interesting and very relatable article about book bloggers not being influencers and not being paid. This whole article truly pissed me off. The truth behind it opened my eyes to what is happening and I'm so on board with everything Laura wrote. Book bloggers are influencers, we do get people to know about new books, buy them, read them, share the words about them, so why the hell we don't deserve to get paid for it? It's a job after all.
Read the article if you're curious and want to know more about the topic.
music
I feel like I've been listening to the

same four songs

forever when in reality it's been just a month! But they are so good you won't want to listen to anything else! Here's the list:
movies & tv
- I finally gave in and watched Love, Simon without reading the book first. Savage. I know! But I was bored and I needed something to watch instead of indulging in chips without reason. It was great and if the book is just half good, I can't wait to read it!
- The magic of Netflix never ceases to amaze me. I've been wanting to watch set it up since the day I saw the trailer and goodness gracious it was bloody great!!! I loved every second of it and if you don't believe me, I do have a

movie review

to prove it.
- since the news that the bold type has been renewed for a season two, I've been thrilled and excited and impatient to watch it! The time has finally come and OMG!! It's even better than season one! Not that I didn't love season one, I did, especially the last episode but this season is so much better!!! This tv-show makes me want to go for my dream job and work my ass for it! So empowering!
- Another show that really makes me want to leave everything behind and sail on a ship to dreamland is younger. I've loved this show since the very beginning, the characters are so great and the storyline is never boring. Also, my crush on Josh grows more and more each episode to a very unhealthy level. Can you please tell me where can I get one? Or is it a New York thing like a trademark?
- And finally, you know I love new shows. I love trying them and getting obsessed with them and if you are a bit like me, well, you're in for a treat! First off, let's start with picnic at hanging rock I wouldn't even know how to classify it or where to begin with but it's kind of a mystery/gothic/Maggie Stiefvater(y) kinda show. It takes place in 1800 in an all-girls school with Natalie Dormer as the headmistress and it follows the missing of three girls at the Hanging Rock, a mysterious, dark place filled with ancient magic. Fans of Outlander and Maggie Stiefvater books will love it!
The second tv-show you should really start watching right this second is dietland. It follows Plum, a ghostwriter for a fashion magazine, struggling with self-image due to her obesity. At the same time, everyone is talking about a feminist cult, that kills men accused of sexual abuse and assault. If you're into girl power and fighting for what you believe in, you will love this one!
books
- I've been re-reading

Aristotle and Dante Discover the Secrets of the Universe

these past few weeks and I think I loved it even more than I did the first time. I also posted a

playlist

for the book and the review will come up on the blog very soon!
- The other book I've been reading is

I hope my voice doesn't skip

by Alicia Cook. It's a poetry book and it was so good! I'm currently working on an interview with Alicia that I will post on the blog this upcoming week as well as the book review.
miscellaneous
- my bangs. Since cutting my hair back in winter - with the only power of my strength, a pair of scissors and a whole lot of youtube videos - I just can't see myself without bangs anymore nor with long hair. It looks pretty and - for what seems like a miracle - it doesn't take a lot of effort to maintain! But dry shampoo and baby powder have become my best friends.
- summer rain. There is a quote from Aristotle and Dante about the summer rain that says:
Even though summers were mostly made of sun and heat, summers for me were about the storms that came and went.
I think this quote was meant for me.
-
bookstagram

. I have a relationship of love/hate with Instagram lately, the algorithm is driving me crazy but the bookstagram community is always so nice and inspiring that I wanted to leave a mark on there and post consistently. Long story short, I've been absolutely loving it!
- And finally, but more importantly, my blog. I've been really struggling lately with content and the lack of inspiration and I think it was because I get bored very easily and if I'm not excited to do something then I won't do it. This ended when I've decided to give my blog a makeover. A new design was pretty much very needed and although I was happy with how it looked after installing the new design, I wasn't fully satisfied. Until yesterday.
I can say my blog is not a work in progress anymore and I'm so happy with it!!
I can now feel inspired and ready to write and I hope you love it too!!
These are all the things I've been loving throughout the month of June. Some of these you might have expected - I've been raving about them on

twitter

way too much - and some of these I hope you try out and tell me what you think!